I'm sitting here in snow bound Britain in the sure and certain knowledge that northern Europe (and the Yanks) are wondering what all the fuss is about.
British airports close, the roads close, most of our schools close, and cars drift into ditches. Where they stay for the duration. Let's face it, this country has closed shop, we'll get back to ya 'all.
Later.
It is hardly worth mentioning the trains, the network never runs properly. I expect the Krauts are laffing into their furry mittens at this very moment.
Scotland is excused, they do snow all the time, poor sods.
The news has been enlivened by interviews with Council officials who pontificate that (a) they are well prepared, and (b) can't be expected to forecast the fall of snow.
Not true, the Met Office does a good job with this forecasting lark - we know when, where, and HOW MUCH.
Doesn't help any, folks can't get to work and spend hours shivering at stations or stuck in their cars.
Business suffers through lost work as we slide on black ice, deeper into recession.
For those of us who still live in the real world we got recession, whatever crap, Boy David is mouthing to camera.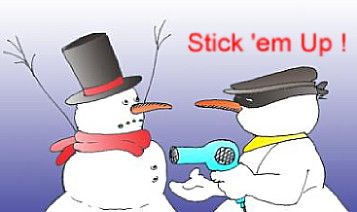 What am I going to do? Going outside to build a large and politically incorrect snow lady.
Give the neigbours something to choke over eh?
Yep.